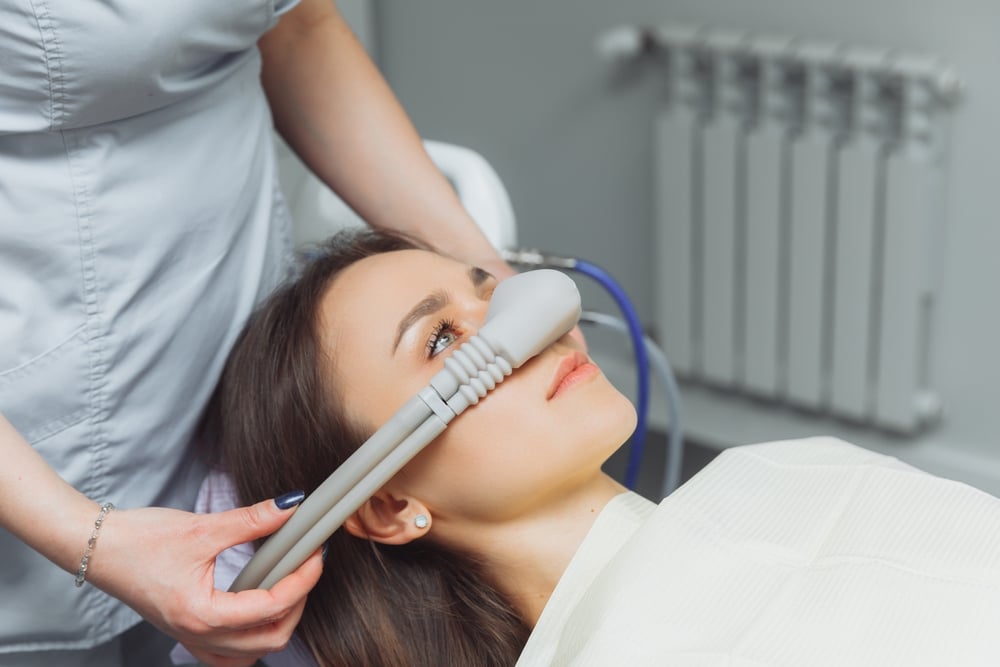 The thought of making that long overdue dental appointment makes many individuals anxious. At Ackerman & Towson Dentistry, we think that no one should have to put off receiving the necessary dental care because of dental phobia. Our practice is focused on keeping you calm and confident by utilizing a compassionate, understanding team, a peaceful setting, cutting-edge technology, and the best sedation dentistry in Brentwood. Here is everything you need to know about sedation dentistry.
What is Dental Phobia?
Dental phobia is a fear of dental procedures. It can include a fear of dental instruments, drill, needles, and local anesthesia. People with dental phobia may experience anxiety, shortness of breath, increased heart rate, sweating, and dizziness. Some people may even faint. 
Dental phobia differs from dental anxiety, which is a fear of pain. People with dental anxiety may be able to undergo dental procedures if they are given pain medication. Dental phobia is more severe and can prevent people from seeking dental care. Treatment for dental phobia includes behavior therapy, relaxation techniques, and sedation dentistry.
The History of Sedation Dentistry
Sedation dentistry has a long and fascinating history. The use of sedatives to ease dental anxiety and pain dates back to the early 1800s. In 1844, two dentists in Boston pioneered laughing gas for dental sedation. They found that the gas helped to ease patients' fears and made dental procedures more tolerable. 
However, it wasn't until the mid-20th century that sedation dentistry began to gain widespread popularity. In 1950, a dentist in Miami developed a new type of sedative called halothane. Halothane was much more effective than laughing gas and quickly became the drug for dental sedation. 
Today, sedation dentistry is a common practice, and numerous safe and effective sedatives are available. Whether you're afraid of needles or have a low tolerance for pain, sedation dentistry can help you get the care you need.
Types of Sedation Dentistry
Sedation dentistry is an excellent option for patients who experience anxiety or fear when it comes to dental procedures. There are three main types of sedation dentistry: oral sedation, laughing gas sedation, and IV sedation. Each type of sedation has different benefits. 
Oral Sedation:

Oral sedation is a common type of sedation dentistry. Patients take a pill before their appointment and are usually awake during the procedure but may not remember much of it afterward. 

Laughing Gas Sedation:

Laughing gas sedation helps to relax patients and ease anxiety. It is one of the safest sedation options and wears off quickly, so patients can drive themselves home after their appointment. 
How to Choose the Best Sedation Dentist in Brentwood
There are a few things to consider when choosing a sedation dentist. First, ensuring that the dentist is properly licensed and accredited is crucial. Second, it is essential to choose a dentist with experience in sedation dentistry. Finally, ensuring that the sedation dentist is a good fit for you is vital.
Dr. Kevin Ackerman and Dr. Eric Towson are two of the best sedation dentists in Brentwood, CA. They are highly qualified in conscious sedation dentistry and put you, the patient, first. We at Ackerman & Towson Dentistry are here to support you through your fears and won't pass judgment. We understand that overcoming a dental phobia might be difficult. We will make every effort to create a relaxing environment so that you can enjoy your dental visit.
Safety Considerations for Sedation
It is essential to consider the safety considerations for sedation dentistry. Numerous options for dental sedation are perfectly safe and can help reduce any uncomfortable feelings associated with dental work. When people hear the word "sedation," they typically think of highly hazardous and invasive methods. Dr. Ackerman or Dr. Towson will do a comprehensive examination and go over your medical history before prescribing any treatment. Your medical history will enable them to assess your safety for sedation dentistry.
Sedation Dentistry Brentwood
Thanks to sedation dentistry in Brentwood, you don't have to put off visiting the dentist any longer. Give us a call, and we'll go through your sedation choices, whether you want to know how to feel more at ease during your upcoming routine appointment or you've been putting off going to the dentist for a long time due to your fears. 
Contact Ackerman & Towson Dentistry right away to schedule a sedation appointment.