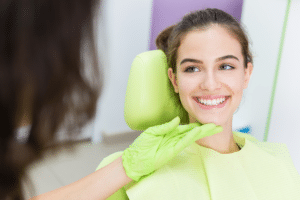 Sedation Dentistry
Some people fear the dentist and won't look at their mouth because of anxiety. If this sounds like you, sedation dentistry could be the solution. Ackerman Towson Family Dentistry in Brentwood prioritizes healthy smiles and emphasizes comfort for all of our patients. We help patients relax during treatment through different forms of sedation dentistry. 
What is Sedation Dentistry?
It's a secret most people don't know. It's almost like having someone go to your dental appointments for you. Sometimes you won't remember the treatment. You won't fear the experience and may be more likely to stay current on routine and essential dental treatment. When you don't miss your dental appointments, you look and feel your best. 
Our team administers safe, commonly-used sedation to any patient. The sedative can be given by inhaling through your nose. As you breathe in, the laughing gas will start to relax you. 
You won't go to sleep as you might with general anesthesia, which carries a higher risk. You're always conscious. You'll be aware of what is happening. You can respond to the dental team as they monitor you. They'll routinely check to confirm you're comfortable. 
There are generally three categories of sedation: light, moderate, and deep. Sedation dentistry often includes moderate conscious sedation for routine dental treatment such as:
Dental cleaning

Cavity filling

Root canals
The most common form of sedation dentistry is a light sedation, called laughing gas. Your dentist can use it on the quickest and most prolonged, extensive treatments to provide relaxation. No treatment is too short of receiving help feeling comfortable. 
Is Sedation Dentistry Safe for Everyone?
We use safe, industry-standard sedatives. Almost everyone can benefit from our services. Sedation dentistry may be safer because the dental team monitors you during treatment. It's less stressful on your body and can prevent anxiety, rising blood pressure, and high heart rate. 
You may not know this, but sedation dentistry can also be a significant advantage for your children receiving care. No one is more nervous to see the dentist than a young child. If your child gets anxiety around appointment time, ask us about our light sedation options, and we can help make it so that they are relaxed and the procedure goes smoothly. This can also increase your child's relationship with receiving dental care. 
Hours Can Seem Like Minutes
Your visit will seem short, sweet, and will pass quickly. When you're comfortable and relaxed, Dr. Ackerman and Dr. Towson can perform large amounts of dentistry promptly and efficiently. This means fewer visits because you'll be able to fit more treatment into one appointment.
Many Patients Recommend Sedation Dentistry
Dentistry has come a long way in recent years. There have been countless years of research dedicated to studying and improving dental methods. There has been tremendous advancement in alleviating pain and anxiety during dental visits. Dentistry no longer has to be painful or scary.
If You Routinely Put Off Going to the Dentist
Look into sedation dentistry. Your visit to Ackerman Towson Family Dentistry can be comfortable, practical, and health-promoting. It's nothing to fear. We love working with our patients to help accommodate their wants and needs for their care. 
If You Could Fast-Forward Your Dental Appointment
With sedation dentistry, it's almost like you can. At Ackerman Towson Family Dentistry in Brentwood, we'll ensure a positive experience. You'll be in complete comfort and might even enjoy the experience. 
If You Dread Going to the Dentist
Give us a chance to change your perspective. We've treated countless patients in Brentwood with sedation dentistry. Call to set up a consultation today, and we'll provide the dental care you need. You may forget the treatment, but you'll never forget the satisfaction.