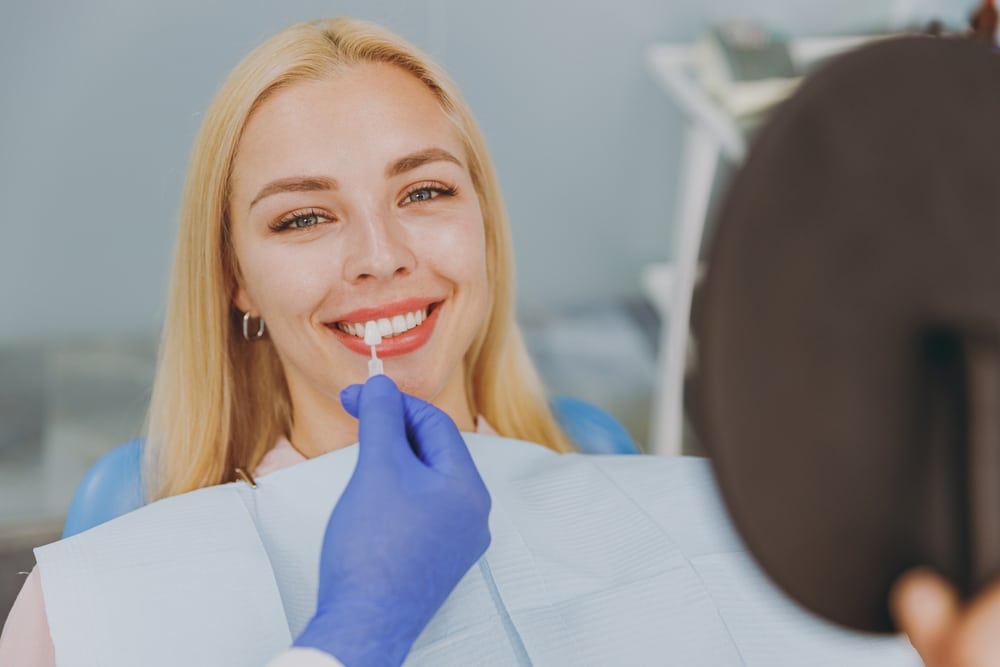 Have you been looking for a place to help make your smile bright and beautiful? We understand that feeling your best starts with having a fantastic smile. At Ackerman & Towson Family Dentistry in Brentwood, we offer a range of services from the basics, such as fillings or teeth whitening, to more advanced procedures, like dental implants or veneers. We don't just focus on making sure our patients look great – but feel great too by providing compassionate care designed to keep them at ease in the dentist chair!
At Ackerman & Towson Dentistry, we proudly offer our patients the best treatments for oral health needs. Schedule an appointment online now and take control of how good your smile looks and feels today!
What are Dental Veneers?
Dental veneers may be the solution if you're looking for a way to enhance your smile. As a leading dental care provider in our area, we want to help you learn more about dental veneers so that you can make an informed decision about whether they're right for you.
Dental veneers are thin shells made of porcelain or composite resin material bonded to your teeth' front surface. Veneers can help improve the appearance of your teeth and give you a more attractive smile. We can also use veneers to mask discoloration, chips, cracks, and misalignments or gaps between your teeth. The process is simple and involves minimal preparation of your teeth before we fit them with the veneers.
Benefits of Dental Veneers
Our professional team wants you to have the perfect smile that shines when you enter any room. Whether it's getting rid of pesky coffee stains or straightening out crooked teeth – veneers can help give you the confidence boost you need and set off your new season wardrobe. 
The most obvious benefit of dental veneers is that they can dramatically improve the look of your smile in just a few visits to Ackerman & Towson Dentistry! Benefits include:
No need for complicated procedures like crowns or bridges – we apply the veneers to your teeth with minimal preparation.

Veneers can be made in any shade of white, so they blend well with your existing teeth and look natural.

Veneers can make small teeth look more prominent, and even crooked or misaligned teeth appear more symmetrical.

Improved oral hygiene – When your teeth are covered by porcelain or composite resin, there are fewer uneven tooth surfaces and gaps between teeth, making them easier to clean. Easier cleaning means better oral hygiene overall!

Durability – Veneers are designed to last up to 15 years if properly cared for with regular brushing and flossing.

Low maintenance – Unlike other restorative dentistry procedures, such as crowns or bridges, veneers require little maintenance beyond regular brushing and flossing. 
Is It Right For You?
Dental veneers may be right for you if you want a quick and easy way to enhance your smile without going through multiple dental appointments! However, it's essential to remember that this procedure isn't suitable for everyone; it's important to consult with Dr. Kevin Ackerman or Dr. Eric Towson first to determine if this is an appropriate option for you based on your individual needs and medical history.
At Ackerman & Towson Dentistry, we understand the importance of having a beautiful smile that boosts confidence and self-esteem. That is why we offer our patients a variety of options when it comes to enhancing their smiles, including dental veneers! Whether you're looking for an alternative solution for broken or chipped teeth or simply want an easy way to brighten up your smile, we can help guide you through the process so that you get the results that you desire!
Contact us today at (925) 684-7722 if you would like more information about how dental veneers could help boost your confidence and give you a perfect smile!